ARPCA Pitt Race - Summer 2023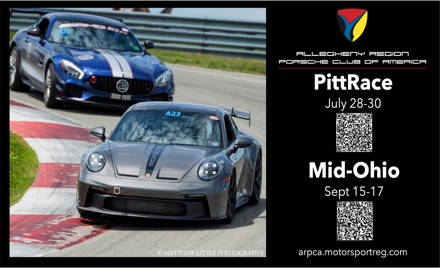 PCA - Allegheny
Friday, Jul 28 — Sunday, Jul 30, 2023
Pitt International Race Complex
,
Wampum

,

PA
Registration closed July 15, 2023 11:59 PM at 2023-07-15T20:59:00-0700 Registration ends July 15, 2023 11:59 PM at 2023-07-15T20:59:00-0700 Registration opens January 15, 2023 12:00 PM at 2023-01-15T09:00:00-0800 Registration runs from January 15, 2023 12:00 PM to July 15, 2023 11:59 PM
*** SORRY - EVENT COMPLETELY SOLD OUT - CANNOT ACCEPT ANY ADDL WAITLIST AT THIS TIME ***
ARPCA HPDE at PittRace's 2.8 mile full course circuit!
Saturday and Sunday July 29 & 30 – In-car Instructed HPDE
Friday July 28 – Advance Solo Lapping for those eligible (A/I/B Solo eligible)
Catered Dinner Included (for registered drivers) Saturday, July 29.
Saturday & Sunday HPDE School
Want to learn how to drive or enhance your skills on a spectacular, and challenging track? ARPCA has a long history of making everyone feel welcome and you will see plenty of "non-Porsches" at our events. In-car instruction is provided for beginner, novice, and early intermediate run groups. You will receive approximately 2hr driving time on track per day!
BONUS $50 EARLY REGISTATION DISCOUNT IF REGISTERED ON/BEFORE MARCH 31, 2023 (automatically applied at checkout)
Friday Advanced Solo Lapping (ASL) - STUDENTS & INSTRUCTORS
Approved Advanced Solo drivers and Instructors may add July 28 as an optional third day. B solo drivers may apply for (ASL) with or without prior PittRace experience (may need recommendation from home CDI if limited MSR logbook experience). C & D drivers are NOT ASL eligible for ASL. Please indicate as part of registration if interested in attending Friday ASL as may not be automatically available.
NOTE: Friday is an event option ONLY in addition to Sat/Sun registration and NO in-car instruction provided.
BONUS - $25 ASL EARLY REGISTATION DISCOUNT IF REGISTERED ON/BEFORE MARCH 31, 2023 (automatically applied at checkout)
Instructors
If not currently an ARPCA approved instructor, please register for event and include your PCA NDEIT Registration # in text box provided (MSF #, or similar from BMW or Audi CCA, and not club affiliation) Or recommendation from home club CDI to track@arpca.com for approval. If Instructor option Waitlisted, register as an "A Driver" and also "Waitlist for I" along w separate email to track@arpca.com indicating interest still being event Instructor. Eligible Instructors will be pulled from A Driver registrations and moved to Instructor on a first come first serve basis as needed.
Track Tour
A Track Tour will be offered Friday evening after we "go cold" from ASL day ~ around 17:30 (5:30PM). Available to all drivers and recommended for new or drivers new to PittRace. Please indicate interest as an option with your registration. Details will be distributed prior to event.
Dinner Saturday July 29
A catered dinner with soft drinks per each registered driver is included. Additional dinner guests may be included at $25 each and must be pre-registered and selected on or before July 15th. Menu TBD
Costs and Options
Driver Registration Sat/Sun: $550 - Register on/before March 31, 2023 and save $50 (automatically applied at checkout)
Instructor Sat/Sun: $100
Advance Solo Lapping Friday: $275 (approval required - MUST include Sat/Sun registration) Register on/before March 31, 2023 save $25 (automatically applied at checkout)
Additional Saturday Dinner Guest: $25 per person – must preregister on/before July 15th.
Run Groups – NEW FOR 2023
Starting in 2023, ARPCA allows you to select group you feel most appropriate for your experience and comfort levels. PLEASE NOTE: The Chief Driving Instructor has ultimate decision to accept or reassign any and all driver run-groups based on individual experience detail available from MSR Logbooks, outside CDI recommendations, and or based on total participants registered for event. Selections for drivers are:
A : Advanced Solo Drivers
B Solo: Intermediate WITHOUT in-car instruction (must be approved Solo)
B Instr: Intermediate w in-car instruction provided
C: Novice/Intermediate drivers w in-car instruction provided
D: Beginners w in-car instruction provided
I: Instructor
NOTE: If you are "waitlisted", register anyway as you are very likely to get accepted into event in your requested group. Do NOT sign up for an open group as this will just delay placement. Thank you!
Parade Laps
Will be conducted Saturday during lunchtime. With $10 cash donation per vehicle (proceeds to a worthy 501(c)3 charity per ARPCA by-laws as selected by the track team), you can do 3-5 laps in any street legal vehicle with as many occupants legally permissible.
Garages, RV/Trailer Electrical Hook-up, and Camping
Available – contact Pitt Race directly: (724)535-1000
Payments and Refunds:
Payments
Your valid credit card will be charged immediately in order for us to process your registration. You will receive confirmation once you have been fully accepted into the event
Refunds
Cancellation fee on/before April 27, 2023 - $50
Cancellation fee on/before May 27, 2023 - $100
Cancellation fee on/before June 27, 2023 - $150
NO REFUNDS after June 27 for any reason including mechanical failure or failure to pass tech inspection.
Lodging / Accessibility
PittRace is a short 20min drive north of Pittsburgh International Airport w easy access off Pennsylvania Turnpike (I-76) at Exit #13. While some accommodations are available nearby, there is a wider range at many price-points nearby in Cranberry Township, PA – Exit #28 (NO TOLLS FROM TRACK TO CRANBERRY TOWNSHIP).